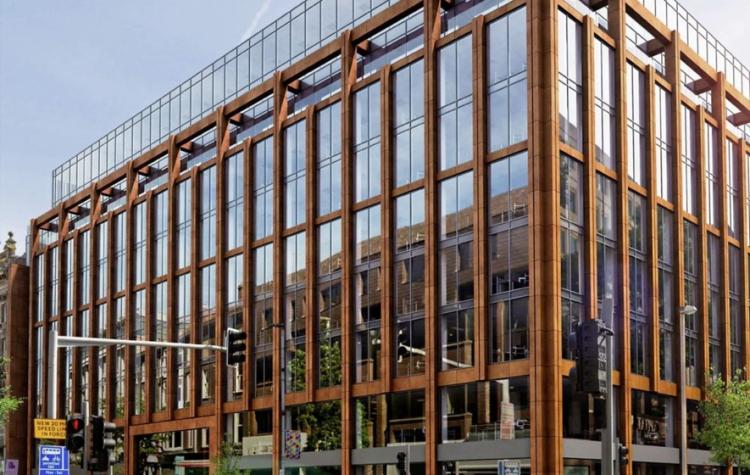 Work has begun on the new Merchant Square development, which replaces the existing Oyster House
Gary McDonald Business Editor
WORK has commenced on a major development of a nine-storey grade A office building which it is claimed will transform the centre of Belfast's business district.
The £70 million Merchant Square development on Wellington Place, due to complete by the autumn of next year, will create 227,000 sq ft of retail and office space and house up to 3,000 employees.
Funding for the Merchant Square project has been secured from the Northern Ireland Investment Fund and Fairfield Finance, with owner Oakland Group being advised by local firm Radius Corporate Finance.
Guy Hollis from Oakland insists development will have a "transformative impact" on Belfast city centre and will herald the beginning of a new era of commercial infrastructure in the city. He said: "Our project will have a multiplier effect around Wellington Place, Queen Street and College Square, and we are confident the Merchant Square project will make a major contribution to the redevelopment of Belfast going forward."
Among the unique features of Merchant Square (which replaces the existing Oyster House) is the sustainable nature of the development, with an emphasis on the provision of 'green' working space.
When completed the ground floor of the building will house retail units alongside space for 250 bicycles, complete with a bike repair shop and shower and laundry facilities.
Each of the nine floors will provide up to 24,000 sq ft of workspace and the entire building will incorporate smart building technology through wireless networks.
Mr Hollis said the development had been designed to showcase Belfast as a capital commercial city across the islands.
"We believe in the future of Belfast as a commercial hub and we have carefully designed every element of Merchant Square to ensure that we are providing the most up to date, attractive and competitive commercial space for which we know there is a demand.
"With our proximity to the new transport hub which is due to open in 2022, to the major motorways, the harbour and two airports we anticipate a high demand for this space and in fact we have already some enquiries before we start the building work. We are excited at the potential of Merchant Square and the contribution it will have on the ongoing regeneration of Belfast and Northern Ireland."
Fairfield Real Estate Finance managing director Chris Wilson said: "The deal reaffirms our focus on helping experienced property teams to execute their business plans. We see Belfast as a very strong office market. Merchant Square is a great addition to our growing development finance portfolio."
Lisa McAteer, director of CBRE, which is overseeing the letting of the building, added "Merchant Square will deliver much needed grade A space to the Belfast market.
"Most of the existing space in Belfast is fragmented and cannot accommodate companies wishing to secure large floor plates for sizeable teams or to provide for future expansion. Merchant Square's 24,000 sq ft floor plates make it ideal for companies with large requirements."