£15m deal to acquire Nambarrie building and south Dublin hotel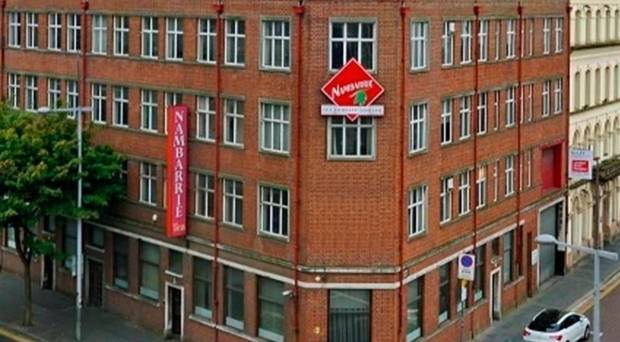 The former Nambarrie Tea Factory in Belfast
By Ryan McAleer
One of Londonderry's most prominent business families has entered into a major multi-million pound business partnership with a former adviser to Lord Sugar.
Brendan Duddy Jnr and his brother Lawrence, of the Duddy Group, have joined Propiteer Ltd to acquire both the former Nambarrie Tea Building in Belfast and the Ibis Red Cow hotel in south Dublin.
The former factory has been bought for around £2.5m with full planning permission for 56 residential apartments, as well as retail units.
It's understood the recently refurbished 150-bedroom Ibis hotel, which lies on the outskirts of Dublin, was bought earlier this month for around €14m (£12.5m).
The brothers are the sons of Brendan Duddy Snr, considered one of the most significant figures in brokering the peace process here.
Mr Duddy died last year at the age of 80.
Propiteer describes itself as a club "exclusively for high net worth, commercially aware and sophisticated investors".
A spokesman for the company confirmed yesterday that the brothers behind the Duddy Group were now in business with Colin Sandy, the former finance director at Lord Sugar's Amshold, and Tom Dalton, the former chairman of Laing O'Rourke, the global construction firm behind projects including Heathrow Terminal Five and Eurodisney.
Propiteer has revealed that the acquisition of the Nambarrie building and the Ibis hotel was financed by £34m of debt funding from Fairfield Real Estate Finance "alongside refinancing of other Propiteer assets".
Colin Duncan of Fairfield said: "We are pleased to support borrowers of the calibre of the Propiteer team in the expansion of their business.
"Funding was achieved within six weeks of the initial introduction and this is a great example of the abilities of both Fairfield and Propiteer to quickly execute propertyacquisitions."
The joint venture between the Duddys and Propiteer is also understood to include the new £7m Holiday Inn Express in Derry and a lucrative 20-acre site in Clondalkin in Dublin, which was bought earlier this year.
Propiteer said the acquisitions joined its extensive portfolio of properties across the UK and Ireland, now valued in excess of £500m.
It includes the Quayside shopping centre in Derry and a new housing development in Poundbridge Green in Saintfield, Co Down.
Propiteer chief executive Dave Marshall said: "This strategic acquisition is just part of our plan, to bring both jobs and hotel bedrooms to Dublin.
"The strategy, which includes two further Dublin hotel sites with over 500 beds, is part of an accelerated hotel expansion.
"With a significant number of new hotels being completed within the next two years, our aim is to blend the portfolio, combining strategically located new builds with the existing trading hotels."
Propiteer was advised through the acquisition process by DWF Lawyers, Ross Little and Michael Neary. The team also included Aidan Scollard and Derek Dervan, representatives of Roberts Nathan Accountants.
Belfast Telegraph